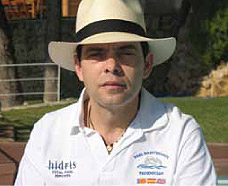 Juan Bautista Bas Segarra
Director I was born in Jávea in 1964 and I have more than 20 years of experience with pools. I speak english, spanish and valencian.
As Director of HIDRIS Pool Services Jávea, I base the running of our company on training, professionalism, trust, innovation and a personalised service for each client.
20 years' experience in this sector has proven to me that ongoing attention is the best way to maintain a perfect pool.
I firmly believe in the benefits of honesty and a job well done, which are both supported by our permits, licences, training courses and public liability insurance, as well as accreditation by the Conselleria de Medio Ambiente de la Generalitat Valenciana (regional government's ministry for the environment) for swimming pool water treatment.
We are also members of the Junta Arbitral de Consumo (Consumer Arbitration Board), as proof of our transparency and credibility.
We concentrate our work in Jávea in order to be close in the event of any service requirement or incident.
Emergency telephone helpline for our clients on public holiday.
We have clients of many nationalities, with a very high level of customer satisfaction.
We are proud of the service we offer and believe that should you hire us, you will obtain the best value for money.
Related